With over 16 years of experience and a rich background in sociology, human resources management, and finance, Lavinia's journey is a true testament to the opportunities for growth and continuous learning at Promidea. Let's dive into her inspiring story!
What is your current role and what makes it exciting?
As a Sourcing Director at Promidea, my role is to optimize sourcing procedures, ensuring the best quality promotional gifts at competitive costs and timely deliveries. What fills me with immense excitement in my work is the continuous learning and exploration of innovative ways to achieve maximum efficiency.
I've tried different roles before the promotional field and I am still here after 16 years. This role combines my passion for the promotional gifts industry with my background in sociology, human resources, and finance, making every day a stimulating opportunity for growth and success. The continuously learning advantage that I have here, having the chance to get in contact, understand and build relationships with so many different cultures, seeing our products on the shelves next to the biggest brands of our clients. These are just part of so many other reasons that makes this job exciting every single day.
How has your career developed at Promidea?
My educational background has been a significant asset, enabling me to approach challenges with a holistic and adaptable perspective. Starting my jurney as a buyer, I climbed the ladder and become a team leader then a key account manager during my first 11 years within the company. Five years ago, I embraced a new challenge as one of the Sourcing Department Directors, and since then, my career has been a continuous learning curve which led to recognition and internal awards such as "Loyal Employee" 2018, "The Leader of the Year " 2019 and "Employee of the Year" in 2020.
What is the most exciting project that you have worked on?
It's hard to pick just one!. It might sound like a cliché, but every project has had its unique excitement and challenges. Throughout my 16 years at Promidea, I've been involved in numerous exciting and challenging projects. Each one has left a lasting impact on my professional growth and shaped my approach to problem-solving. The diversity and complexity of these experiences have contributed to my personal development as well, teaching me the value of adaptability, resilience, and the art of finding innovative solutions
One aspect that particularly stands out is the way I managed to build strong and meaningful partnerships with suppliers from all corners of the globe. Over time, these relationships have evolved to be more than just business connections, they have become true partnerships. Also the collaboration with colleagues from various departments, including production, logistics, finance, and cost management and working together, as a cohesive team, finding solutions and overcoming challenges at every stage of a project, it has been deeply rewarding.
How would you describe your team and the way they work?
They are a source of immense pride and inspiration. Each team member brings unique strengths and skills.The ambition, "the stubbornness" to do everything perfectly, trying to find the positive side of everything, the involvement of each is like witnessing a collective synergy of diverse talets.The team's genuine enthusiasm, organization, and open-mindedness are key components of their success.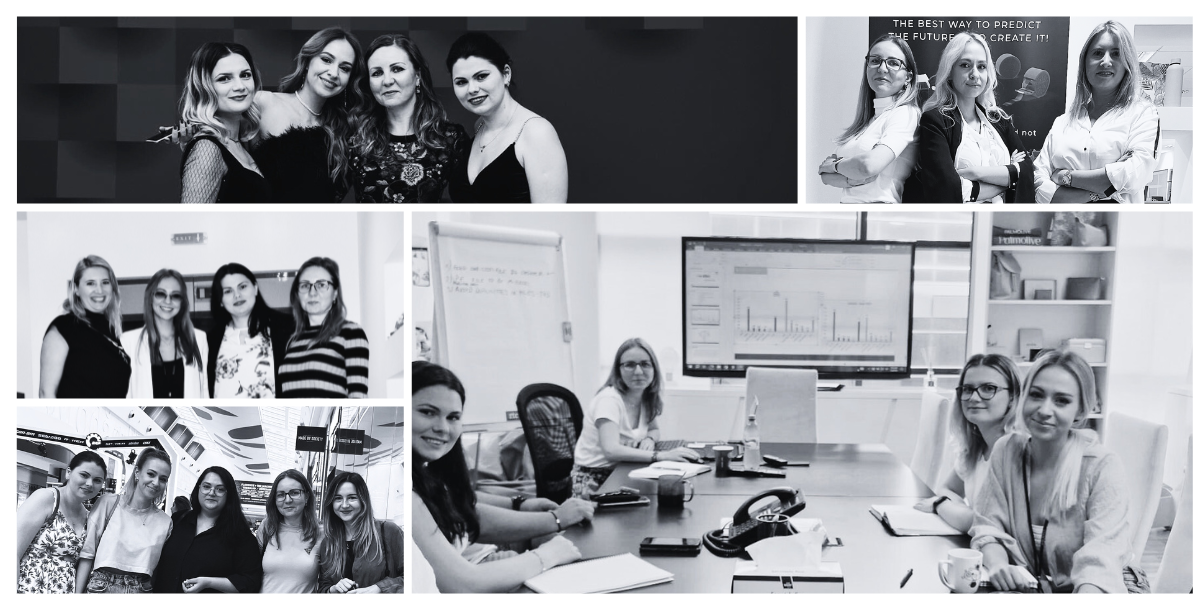 Together, we nurture transparent communication, active listening and empathy, recognizing that, above all, we are human beings, supporting one another to overcome challenges and celebrating our collective achievement. And I am proud that all of these assets led them win different internal awards such as Best Performance 2018, Rising Star in 2019 & 2020, Best Team Leader 2020 and Best Performance in 2023. Thanks to them, I embrace future challenges head-on. Kudos team! ( Nefeli Alexiadi, Corina Iordache, Alexandru Holban , Laura Filoglou, Catalina Corboianu & Raluca Ghiculescu )
What advice would you give someone that wants to join Promidea's sourcing teams?
Our sourcing teams are dynamic and ever-evolving! In this position you can acquire knowledge continuously! Take advantage gain experince from colleagues with different backgrounds and different experiences, which will help you enormously in improving or creating the necessary skills. Ask as many questions as possible and be eager to learn from all, especially during the training period as this brings great value in finding your work style.
Most importantly, seize the opportunity to see your work in action and impact the world with our global premiums and marketing services world !