In today's world, making environmentally conscious purchasing decisions can significantly impact the health of our planet. Imagine the joy of giving a gift that not only delights the recipient but also contributes to the well-being of our environment. Choosing eco-friendly products goes beyond the realm of trendiness; it showcases your commitment to sustainability and makes a powerful statement. As we already talked about in the "Our Commitment to Environmental Protection: A Call for Awareness and Action" article, Promidea collaborates with clients to achieve a sustainable future, promoting environmental awareness and delivering 100 % safe and compliant premiums.
Using environmentally friendly products can conserve the resources used to manufacture the items and help keep large amounts of trash out of landfills. Eco-friendly gifts enhance your company's brand image and reputation as an environmentally responsible and socially conscious organization, but they can also help build stronger relationships with clients and customers who value sustainability. Plus, sustainable gifts can save money over the long term by being longer-lasting and made from natural, biodegradable materials, reducing frequent replacements.
So, making the switch to sustainable gifts is a win-win for everyone involved. Not only does it positively impact the environment, but it also improves a company's image. Who wouldn't want that?
To help you find sustainable options, we have meticulously curated a compilation of eco-friendly corporate gifts providing you with a thoughtful and responsible gifting solution. Discover our curation eco-friendly gift ideas right here to delight your customers, clients or employees and more:
1. Reusable coffee mugs: A sustainable cup made from vegetable fats and oils derived from waste collected from catering establishments in the Netherlands. 100% recyclable. Free of BPA and melamine and odor- and taste-neutral. This leak-proof designer cup is lightweight, easy to carry, and comfortable to use. Fits in almost any coffee holder. Ideal on the go. This bio-based, circular material in the cup reduces the carbon footprint by more than 75%. An environmentally friendly and responsible product. EU-certified. Capacity 340 ml.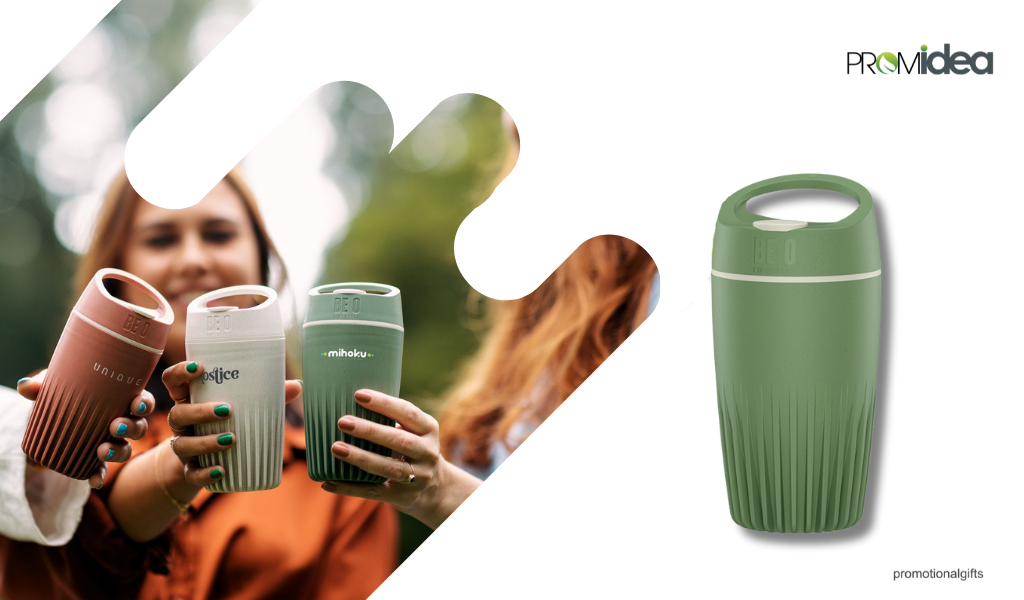 2. Durable A5 notebook convertible into a smartphone holder and made from recycled milk cartons & bamboo.
With 100 sheets of single-stripe layout sheets cream-colored, lined paper, a handy pen loop, elastic closure and a reading ribbon. Bound in a strong wire-o-binding fabric bookmark. The milk cartons consist of aluminum, paper and plastic. During the recycling process, the different packaging materials are separated for reuse and re-purposing, thus contributing to the infinite path of the circular economy. This material is well known for its high recyclability, as well as for its lightweight and resistance. On the we find the distinctive recycled milk carton label.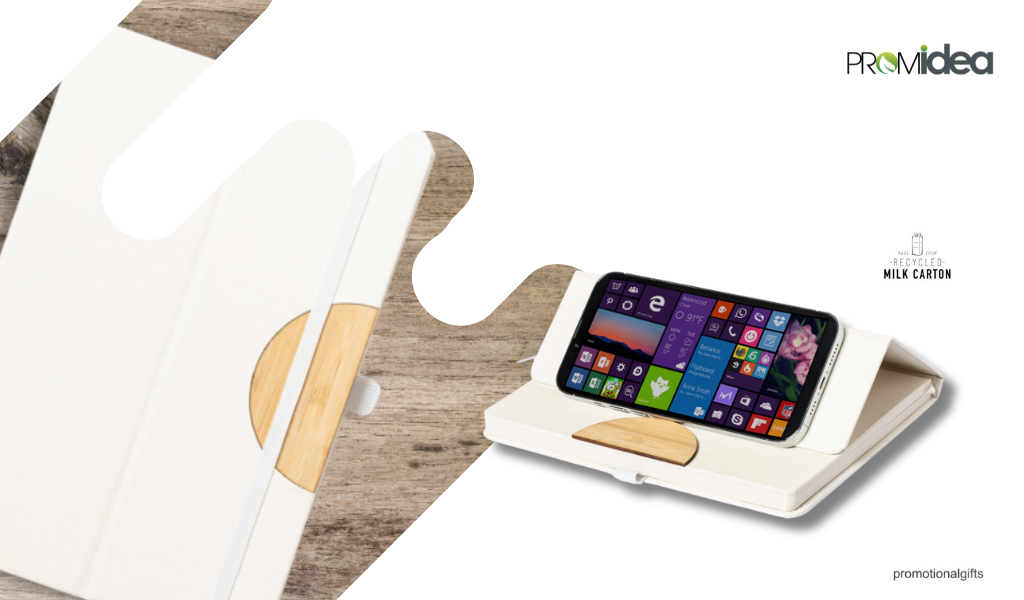 3. Reusable water bottle : The bottle has a no-sweat exterior and contains recycled stainless steel and recycled ocean-bound plastic. One bottle collects 1000 plastic bottles and improves livelihoods in coastal communities. It is NFC Smart Chip enabled to collect more plastic with every refill. The bottle has a dual opening to allow for easy cleaning and filling, plus an anti-leak seal and easy carry loop. Designed to keep your drinks at the perfect temperature for extended periods: hot for up to 8 hours and cold for up to 18 hours. The bottle is dishwasher-safe and BPA-free with a minimum lifespan of 10 years. Recycled stainless steel, 25% PET Plastic, 50% Recycled PET Plastic and 25% Silicone Plastic.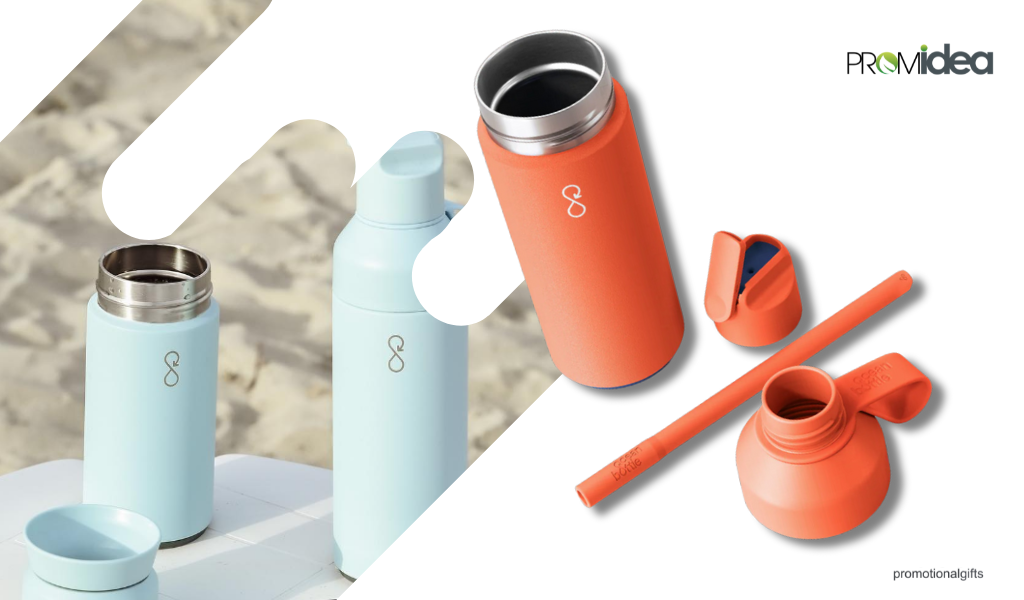 4. Phone charger: Wireless 10W phone charger made from old blue printer coils or from waste of old refrigerators. The. The plastic is cleaned, shredded and then molded into sheets and pressed. The docks are milled from these plates. Each product has its own unique pattern. Includes micro USB charging cable and USB-C connector.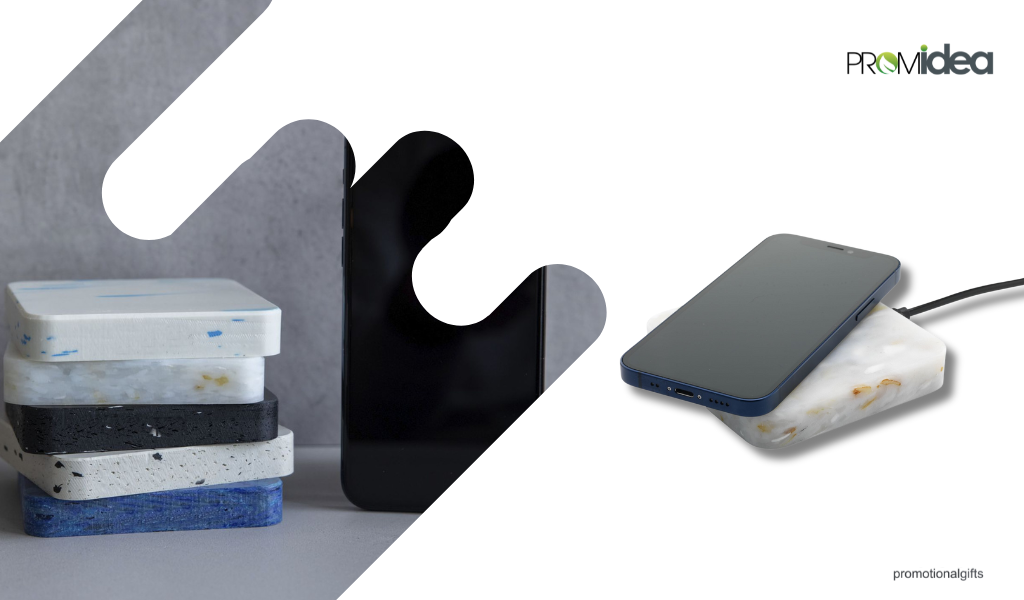 5. Recycled Felt & Apple Leather Laptop: Stylish, designer 13-inch laptop sleeve made from a combination of apple leather, an alternative to leather, and recycled wool felt made from regenerated wool fibers (50%), wool (30%) and PE (20%). Apple pulp is used to make apple leather that looks and feels like real leather. A durable and stylish product designed for the safe storage and transport of a laptop. This laptop sleeve has a handy elastic closure made from 100% GOTS-certified cotton and natural biodegradable rubber. The extra storage compartment has enough space for storing a charger and documents. This material carries the Global Recycled Standard quality mark. Handmade.
The skillful reuse of materials gives them a new lease of life and, at the same time, complies with the principles of the circular economy. The ragging process reduces garments to recycled fibers, separated by color and type. At the end of the production process, the tuft looks like freshly shorn wool. The material is produced in Italy. Impact - 1 kilo of felt saves 541 litres of water 54.50 KG CO2 92 kWh This is equivalent to filling a bathtub 4.5 times and charging your laptop 150 times.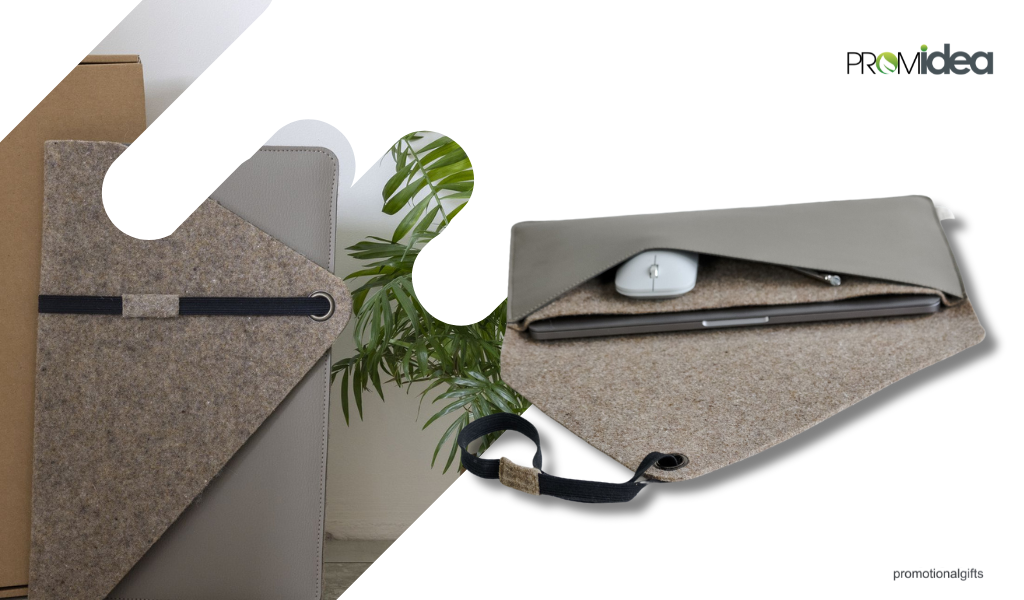 Add your company logo on environmentally friendly gifts and promote your values! You can be sure that with this kind of custom-branded sustainable promotional products, you will be in the hearts of your consumers.
6. Frisbee made of 100% post-consumer recycled PP from electronic, household equipment waste. Stackable.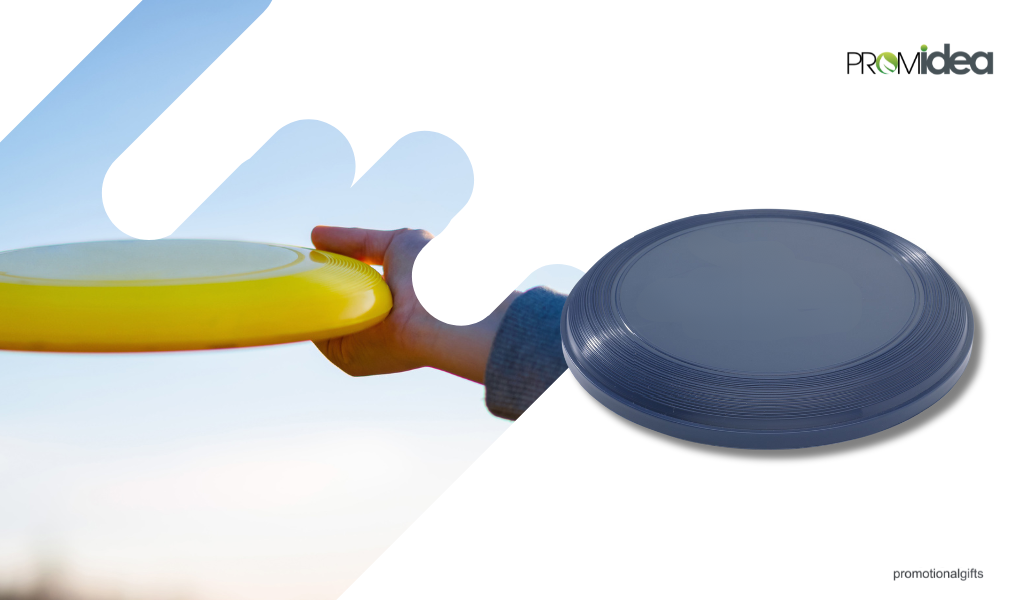 7. Drinking glass set of two: Made from upcycled wine bottles. This unique design retains the look of the original wine bottle whilst creating something completely new. These glasses are comfortable to hold and have a smooth finish. High quality and suitable for water, soft drinks or cocktails. Capacity approx. 330 ml per glass. These glasses are delivered as a set in an original gift box made from recycled, FSC-certified cardboard. A conscious choice for a cleaner environment.
8. Keyrings made from recycled leather waste (from Italian leather) and natural binders from leftover pieces from the company's own production. The recycled leather is very sturdy, has an attractive matte appearance and smells like leather. The colored top layer is made of a very thin 100% water-based PU coating. The keyring is fitted with a sturdy metal ring.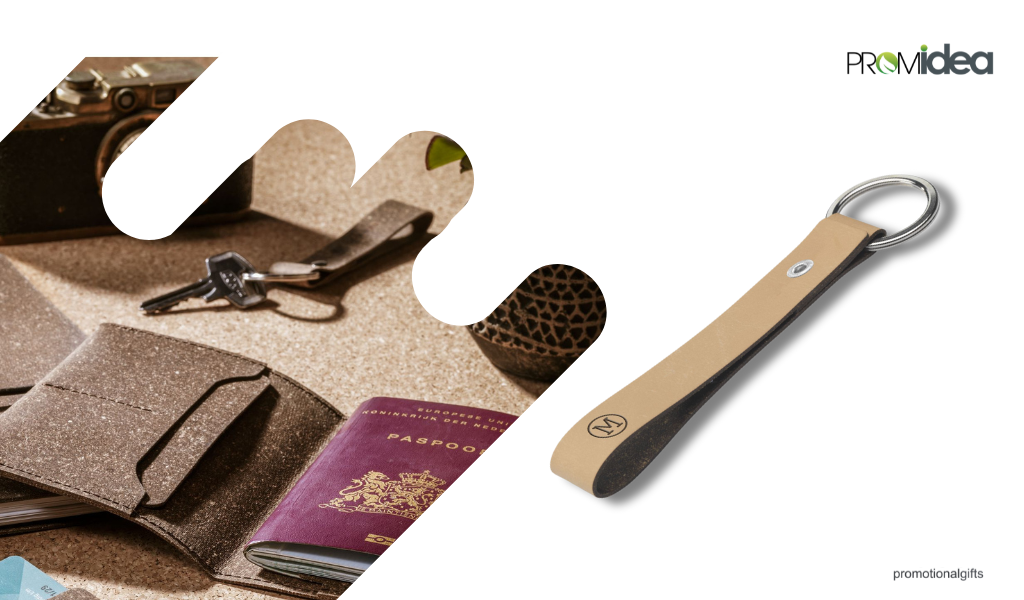 9. Old-Paper Pen: The barrel and cap of this blue ink ballpoint pen are made from tightly rolled, recycled paper. It's perfect if you aim to avoid the use of new paper and plastic waste as much as possible.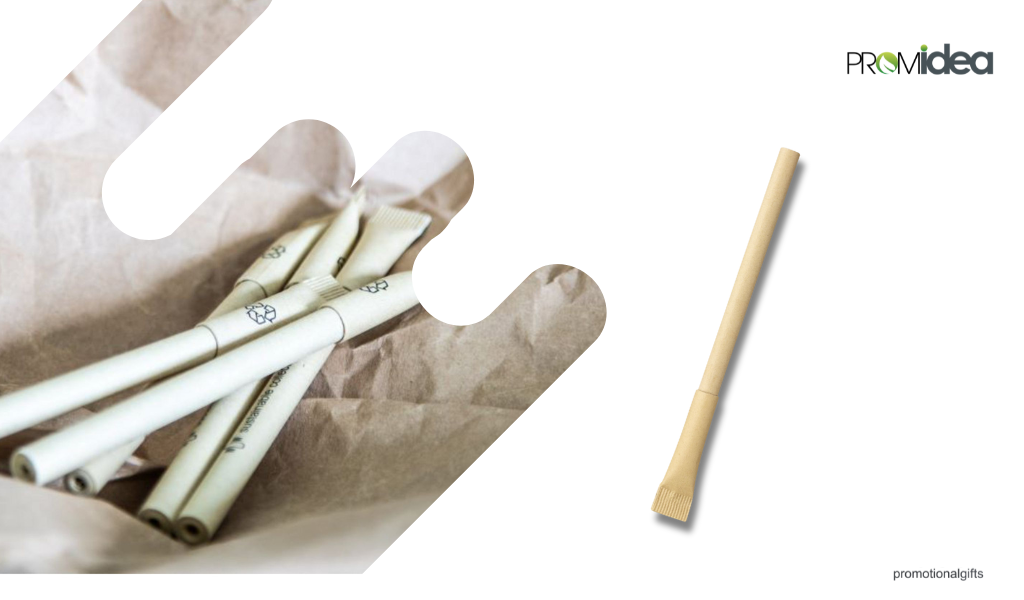 10. Multifunctional hammam towel: Made from 50% Oekotex-certified cotton and 50% recycled industrial textile waste (140 g/m²). Beautiful as a shawl, dress on the couch, luxurious (hammam) cloth or towel. Handmade by local women in a small village in Turkey how work in a social context, with room for growth and development.
..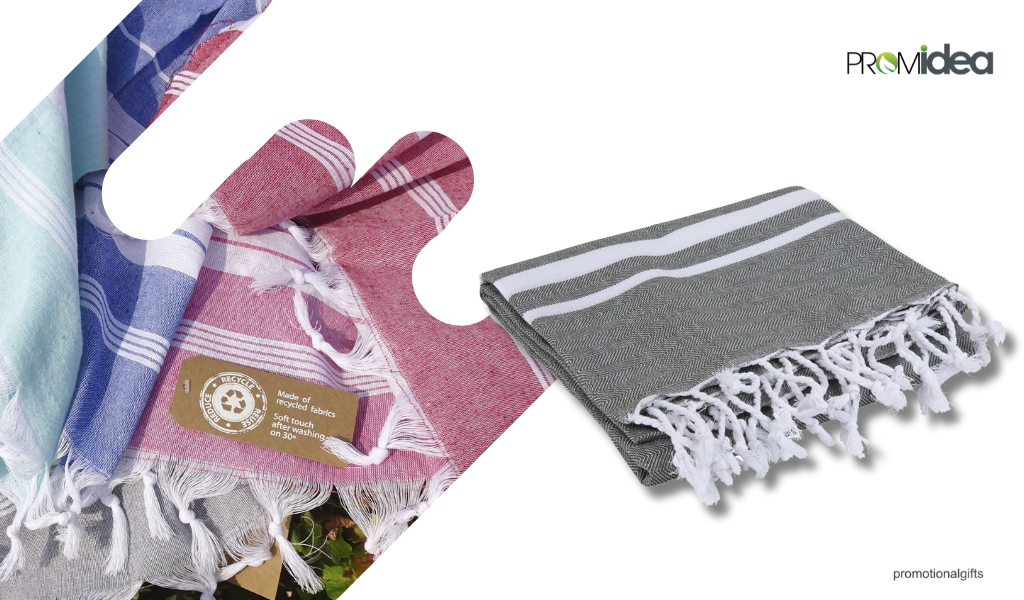 Need to get inspired? Discover more about promotional gifts with Promidea!